ANTENNAS, parabolic, Dish antenna Jirous JRC-29 DuplEX RSMA + 2x JR-300 bundle, Application external, Connectors for antennas 1x RP-SMA, The main frequency range (GHz) 5, Support MIMO No, Polarization horizontal or vertical, Sensor Type R, Port mFi RJ45 D1 Dish antenna Jirous JRC-29 DuplEX RSMA + 2x JR-300 bundle, buy, compare prices , reviews and delivery . Best Online Shop networking for all
Dish antenna Jirous JRC-29 DuplEX RSMA + 2x JR-300 bundle
Dish antenna Jirous JRC-29 DuplEX RSMA + 2x JR-300 bundle
Description
Specification:
dual-polarized antenna, horizontal and vertical polarization
the highest isolation! 53 dB
only 1 antenna instead 2 save money for mast!
extra high front to back ratio
metallic collar assures increased isolation between antenna on mast = lower interference between links
direction links for long and medium distance, also short in difficult conditions
setting elevation (of gradient) and azimuth has independent adjustment
VSWR and isolation are measured during the manufacture of every piece
outdoor usage
you can count attainable distance from section of calculation
radom (plastic parabola cover) for each antenna free!
Technical parameters
Frequency range
5,45 - 5,9 GHz
Gain
28,6 ±0,6dBi
VSWR
≤ 1,5
Isolation between connectors
53dB (≥45dB)
Front to back ratio
≥ 43 dB
Beamwidth-3 dB
5,8°
Connector
N - Female - JRC-29DuplEX
R-SMA - JRC-29DuplEX-SMA
Polarization
linear, horizontal and vertical
Parabola
ø 65 cm
aluminium alloy with baking colour
Cover
UV steady plastic ABS
Instalation for mast
ø 27 - 74 mm
The radiator is internally treated by high frequency technology "Hydrophobic coating" which increases resistance against humidity.
Recommended accessories:
GentleBOX JR-300
Technical parameters:
| | |
| --- | --- |
| Dimensions | |
| Material | UV steady plastic ABS, Polyamide |
| Instalation | for all parabolic antennas of JRC-xx series including DuplEX |
| Ready for 8 cable glands | 4x Pg11, 4x M20 |
Specification:
GentleBOX JR-300 is an ideal box for installation of electronics for the series parabolic antennas JRC-xx
GentleBOX is inclusive outdoor box for AP, RouterBOARDs and other electronics which contains unique system of the grooves and holes for easy installation of the most common types of the routerboards
Easy installation without drilling. You require 1 flat and 2 cross-shaped (PH1 and PH2) screwdrivers for complete installation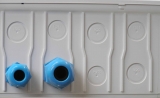 The package includes cable gland, which is secured against spinning by specially molded retaining lines
GentleBOX is prearranged for simplified mounting of RB411, RB433, RB800, ALIX2, ALIX3, Compex, Wispstation and Rocket M2 and M5 with GentleCLIP
---
Features
Product specifications and equipment are subject to change without notice.
---
Feedback
Unfortunately, reviews yet, you could be the first!
To leave a comment, you need to
register
or
login
.
---
Recommended